Dental Implants Hilo, HI
The American College of Prosthodontists estimates that nearly 180 million Americans are missing at least one tooth, and roughly 40 million Americans are missing all of their teeth. Unfortunately, tooth loss is a common occurrence. However, with the right dental implants and crowns, you can restore your smile. Speak with Dr. Garret Uehara and Dr. Jill Uehara at the Uehara Family Cosmetic Dentistry in Hilo, HI to learn more about dental implants.
That's why we're going to explain what dental implants are, discuss why they're used, and answer other pertinent questions as well.

What Are Implants? Are They Different From Dental Crowns?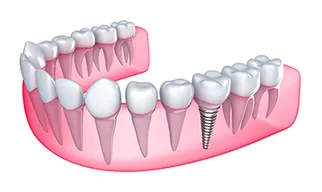 A dental implant is a small post that will act as a substitute for a tooth root. When a natural tooth is removed, there is typically a small, hollow space in the gums that are left empty. The dental implant will fill this space.

Typically, dental implants are made out of sturdy, resistant materials, such as titanium. Once the dental implant is in place, a connector is added on top of the implant.

Then a crown is placed on top. This crown is often made to resemble natural teeth. However, you can also use other materials, including metals.

Ultimately, a dental implant, plus a connector and crown, are pieced together to make an artificial tooth that can complete and restore your smile.

Why Are Dental Implants Used?
Dental implants are needed to keep your artificial teeth firmly in place. Dental implants are also typically made out of sturdy materials so that they can perform well year after year and during high-stress situations (such as eating).

Dental crowns and implants are favored for tooth replacement because together they can offer a natural look and feel. People you know have dental implants and crowns, but you may have never noticed them.

Further, dental implants and crowns have been around for years and have improved over time. From a technological and scientific perspective, dental implants, connectors, and crowns have improved greatly. These days, they offer great value and exceptional durability.

How Long Do Dental Implants Last?
A study published by the U.S. National Library of Medicine National Institutes of Health found that roughly 90 to 95 percent of dental implants last at least ten years. With proper care, it's possible that your dental implants will last your entire life.

By using high-quality materials, such as titanium, cosmetic dentists can help ensure that your implants last for a long time. That said, the crowns placed on top of your dental implants may need to be replaced every 10 to 15 years. Your choice of materials and dental hygiene habits may impact how long your crowns and implants last.


Need to replace one or more teeth? Consider dental implants from your Hilo, HI family dentist!

Call Island Ohana Dental today at

(808) 935-4800
to schedule an implant consultation.